zBUCKz' 'Tied Up Tuesday' Brings Shibari Rope Bondage Fetish to PeterFever
(Las Vegas, April 18, 2023)
For immediate release
zBUCKz flagship studio PeterFever is tied up in knots in anticipation of its kinky new series. This time, it's from excitement, not anxiety, as 'Tied Up Tuesday' a six-episode introduction and exploration of rope bondage, the Asian art of Shibari, premieres on the popular male site. The series stars Singaporean star Toolboi (Zed Sheng) in his first foray into male adult studio porn, and it's lensed by Guy Criss at Las Vegas' popular Kuma sex club. It premieres at PeterFever.com Tuesday April 18th.
Kuma has been hosting Tied Up Tuesday as a safe space for patrons to indulge in some fun consensual rope bondage play. Every Tuesday guests are invited to bring ropes and gear to fulfill their deepest bondage fantasies. On PeterFever's camera, we've invited our masters of rope to participate in an erotic stimulation of the senses, where lust knows no boundaries. Whether tied up and ready for action, or tying each other in sensual rope play, you never know what sexy surprises you might find at Tied Up Tuesday. We welcome all to join us at PeterFever to enjoy this deep, dark erotic exploration into kinky rope bondage that will make your tits sizzle and penis pulsate.
Creating this new project, PeterFever recruited some experienced practitioners and aficionados. Rigger and rope artist Dom Ellliot was on hand to help with tying and providing safety and proper procedures on set. And Tied Up Tuesday marks the embodiment of series star Toolboi's long-standing fantasy of exposing his private turn-on to a wider viewing public. The series cast features Ty Roderick, Jay Tee, and popular Asian-American model Nolan Knox in its kinky tableaux.
Rigger Ellliot was pleased with the enthusiastic and cooperative mood on set. "Bringing rope bondage into a shoot can be challenging, but the PeterFever production team and models were up to the task of planning what would be tied and how to take advantage of rope on the body to make a really hot scene. I'm very proud of the final product!"
And star Toolboi is proud of his studio premiere, as well. "Working with PeterFever was a fantastic experience for my debut in studio porn, and I am grateful for the patience and guidance of the producer, director, and fellow performers. I've followed PeterFever for a long time, and as the only North American porn studio that focuses on Asian performers, I am glad to be given the opportunity to work with them.
The four days of filming in Las Vegas at gay sauna Club Kuma was a bonding experience. The familial cohabitation experience helped the chemistry on screen with my scene partners, and solidified camaraderie among us. We got to not just spend the days filming, but also the evenings having dinner, soaking in the hot tub, gym-ing and preparing for the scenes.
I have been creating independent erotic bondage videos and photos with my husband Thiktool for the past couple of years. For this bondage-themed series, the PeterFever team brought on LA-based rope rigger Dom Ellliot to help with the rope rigging during the filming. Ellliot's adaptability to the shifting conditions of the shoot helped make it a smooth filming experience. It was the first time for several of my co-performers to experience erotic rope bondage, and it was important for us to not only focus on the filming, but also build awareness about health, safety, and consent around rope bondage.
As a bondage enthusiast, I am thrilled to see my fantasies manifested onscreen. I hope to showcase the beauty and sensuality of rope bondage in this series. Based on what we experienced onset and viewing the daily rushes, we hope that we've managed to achieve it. I look forward to seeing the series released over the coming weeks, and hope it sparks a wider appreciation and curiosity around erotic rope bondage."
Producer and WebMediaProz/zBUCKz CEO is excited to portray a new and exciting fetish option for the PeterFever members. "With the rise in popularity of rope bondage and shibari over the past few years, I wanted to invite some masters of the genre to create a truly special cinematic montage of beautiful men engaged in sexual rope play that will live up to the expectations of die-hard fans of the genre," said Zeeman. "With the help of Toolboi (Zed Sheng) and Dom Ellliot, I truly think we achieved something magical, and I couldn't be happier with the end product. With this movie, we hope to not only please fans of rope bondage, but also turn on a whole new crowd to this very highly erotic fetish."
The six-episode 'Tied Up Tuesday' series unspools at PeterFever.com Tuesdays, beginning April 18th.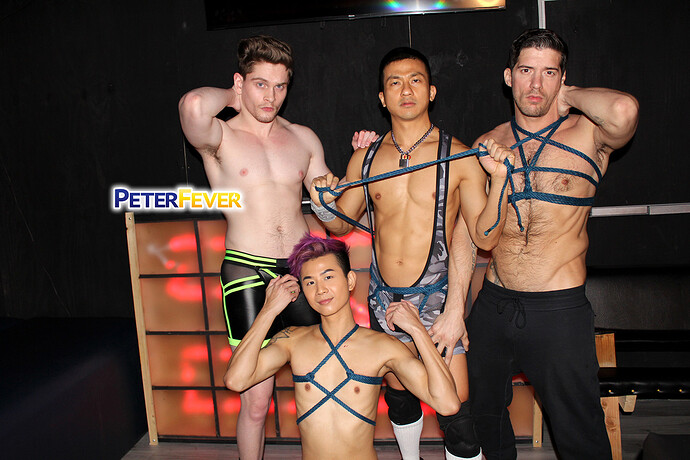 About PeterFever: While most of the studio's scenes contain at least one Asian model, Peterfever is not an "all Asian" site but rather one which has a focus on giving Asian men representation in gay porn. PeterFever believes that Asian men deserve a seat at the front of the table in porn, instead of at a studio with one or two "token Asians." PeterFever's goal is to carry the torch started by founder Peter Le to dispel negative stereotypes about Asians in the gay community and feature them in sexy, creative, story-driven series and short films.
About WebMediaProz: WebMediaProz, the Management company behind the affiliate program Zbuckz.com, was founded in 2003. The company focuses on providing an innovative platform for entertainment studios to distribute their content, using state-of-the-art technology and innovation to personalize websites for their clients. The company's excellent affiliate tools, top notch support, industry leading payouts and powerful database infrastructure has made their affiliate programs and membership sites some of the most well recognized in the online entertainment industry, employed by some of the top studios, affiliates and talent in the industry.