​ Zbuckz Announces #SexyZombieFever20 Social Media Contest to Coincide with PeterFever's Halloween Zombie Series
(Las Vegas, October 1, 2020)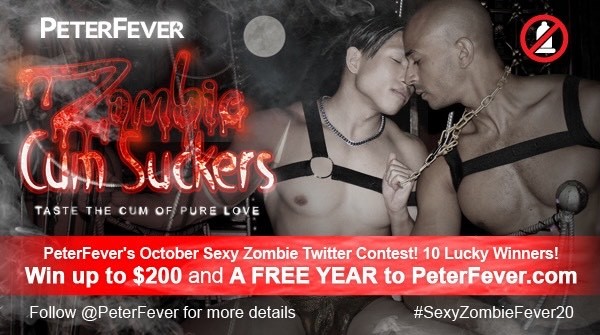 Recognizing the immediate excitement and appreciation for PeterFever's new "Zombie Cumsuckers" series, Zbuckz announces their fun new Halloween season social media contest. Using their @peterfever Twitter account, the studio is awarding $1000 in prizes during two October contest periods to followers posting their hottest photo looks as sexy cumsucking zombies along with the required hashtag #SexyZombieFever20. During each period, October 1st through 15th and October 16th through 31st, four runners-up amassing the most "likes" for their photo post will receive one-month memberships to PeterFever. The winner with the most "likes" of all during the first contest period will receive one-year of PeterFever membership and $100 (paid via Paypal). The winner for the second period will receive the one-year membership and $200 (paid via Paypal).
Zbuckz CEO Danny Zeeman is proud of the new comedic erotic thriller, which debuted September 29th on PeterFever.com . Starring Jessie Lee, David Ace and newcomers Jack Hunter and Zario Travezz, "Zombie Cumsuckers" is a five-part epic of a young couple caught in the crosshairs of an ancient Zombie King and his sexy slave minion. Directed by Guy Criss, it offers erotic thrills mixed with some creepy chills and a few laughs.
Zeeman is happy to bring fans into the world of "Zombie Cumsuckers" through this global social media event. "With the release of our new hit zombie movie "Zombie Cumsuckers," we wanted to give the fans a fun way to participate and get in on the Halloween spirit," he said. "That is why we are encouraging zombies from all over the world to post a sexy photo of themselves in a zombie costume, zombie make-up or anything else that shows they are a hot Zombie Cumsucker."
Getting into the spirit of "Zombie Cumsuckers" is easy. Prospective entries can view the series trailer and read a plot synopsis HERE , and follow the weekly episode updates each Tuesday through the Halloween season at PeterFever.com. Winners for the first contest period will be announced on PeterFever's Twitter feed Monday October 19th, and for the second period on Monday, November 2nd. Follow @peterfever on Twitter and don't miss a second of October's #SexyZombieFever20 fun!
Keywords: contest, Twitter, social media, thriller, Halloween, erotic, gay porn, porn, streaming, hardcore, Asian, male pornography, passionate, humorous, group sex
About WebMediaProz: WebMediaProz, the Management company behind such affiliate programs as Zbuckz.com and Dickbank.com, was founded in 2003. The company focuses on providing an innovative platform for entertainment studios to distribute their content, using state-of-the-art technology and innovation to personalize websites for their clients. The company's excellent affiliate tools, top notch support, industry leading payouts and powerful database infrastructure has made their affiliate programs and membership sites some of the most well recognized in the online entertainment industry, employed by some of the top studios, affiliates and talent in the industry.​