PeterFever's Innovative New "Massage Exchange" Series Premieres October 19th
(Las Vegas, October 19, 2021)
For Immediate Release
A notorious San Francisco massage exchange group with an "anything goes" credo, where the kneading and stretching action took a decidedly erotic turn, inspires the latest hardcore male action series from Asian-themed PeterFever this month. "Massage Exchange", featuring big name stars Zario Travezz and Nic Sahara, Latin newcomer Alfonso Osnaya and Asian models Levy Foxx, body beautiful Travis Yukarin, and social media sensation Danny Ice (making his studio porn debut) premieres on PeterFever.com Tuesday, October 19th.
The lensing of "Massage Exchange" at Hawk's Gym in Las Vegas presented a technical challenge, as the hot sexual action unfolds simultaneously between six participants on three adjacent massage tables. Three cameramen caught the couplings and managed to stay out of sight of each other's camera views. Director Guy Criss notes sardonically, "This was an amazing movie to make – three cameras filming three scenes right next to each other without catching the other camera operators' feet. Has this been done before? Are we pioneers in Ye Olde Wilde West of CockTown? So much dick…so much ass…so much cum!"
Signing newcomer Danny Ice to his first studio porn appearance was a bit of a coup for PeterFever. Ice has drawn a great deal of notice through his social media, racking up an impressive 326K followers. He's excited to make the transition to professional, studio-shot porn. "This was my first professional studio work outside of the amateur stuff I usually do for my Onlyfans and OMG it was so much more fun than I expected!" explains the social media heartthrob. "Not only did I get to have sex with some of the porn star favorites I'd been dreaming about, but it was such a fun working environment with the cast and crew. I recommend PeterFever to my fans for the hottest gay Asian movies (I can't wait to see this one) and I hope everyone enjoys my very sexy scenes!"
WebMediaProz / Zbuckz CEO Danny Zeeman notes the new series culminates in a massive 6-man group sex finale. "The Massage Exchange features some of our most ambitious camera work and hottest action to date," he says. "With so many hot guys all massaging each other and then converging into one hell of a hot 6-way orgy, this is a solid movie that is sure to give you one hell of a happy ending!"
Follow the SIN-tillating action of "Massage Exchange" as the series unspools with Episode One: "Drain My Tension" Tuesday October 19th on award-winning PeterFever.com .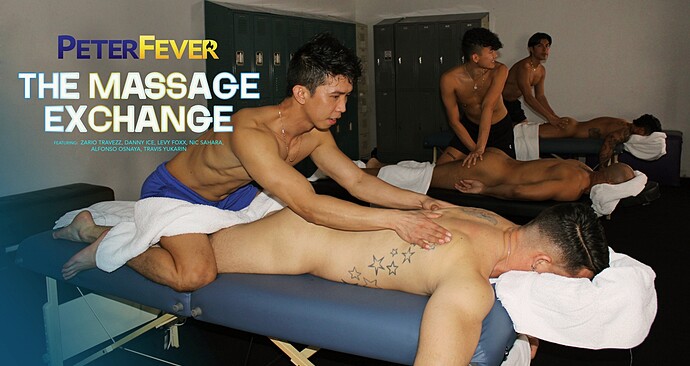 Keywords: social media, fitness, massage, Nic Sahara, Zario Travezz, Alfonso Osnaya, Levy Foxx, Travis Yukarin, Danny Ice, Hawk's Gym, erotic, gay porn, porn, hardcore, Asian, male pornography, passionate, innovation, group sex
About WebMediaProz: WebMediaProz, the Management company behind such affiliate programs as Zbuckz.com and Dickbank.com, was founded in 2003. The company focuses on providing an innovative platform for entertainment studios to distribute their content, using state-of-the-art technology and innovation to personalize websites for their clients. The company's excellent affiliate tools, top notch support, industry leading payouts and powerful database infrastructure has made their affiliate programs and membership sites some of the most well recognized in the online entertainment industry, employed by some of the top studios, affiliates and talent in the industry.