zBUCKz and PeterFever's Comic 'Circle Jerk Of Life' Series Brings New and Veteran Models Together
(Las Vegas, November 10, 2023)
For immediate release
The latest light, comic erotic male series from PeterFever might break no new ground, but combines a seasoned porn veteran with the freshest new faces on the male entertainment scene. In the five-episode 'Circle Jerk of Life,' PeterFever's most veteran model, fitness guru Jessie Lee, turns in a fun sexy performance as a kooky tycoon whose acolytes Dane Jaxson and Sunny D tempt and recruit hapless door-to-door missionary Kai Cho to their own religion of free love and erotic self-expression. The lighthearted and stimulating series, lensed at a luxurious home in Fredericksburg, Virginia under the direction of Guy Criss, unspools on Asian male-centered PeterFever.com now through December 4. View the series' trailer and description HERE .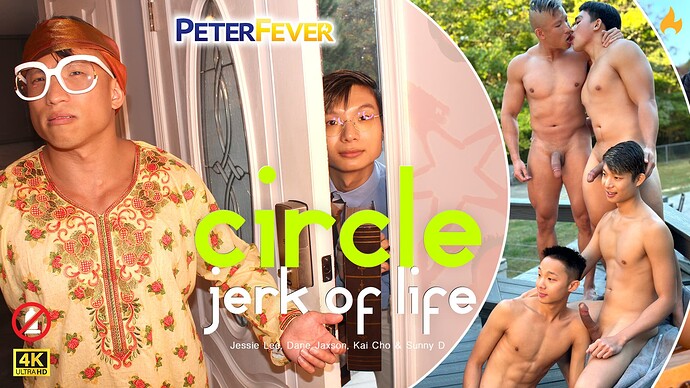 Muscular and versatile, Jessie Lee stands as one of PeterFever's original stars, performing on the site since its first hardcore offerings in 2012. His model profile library on PeterFever spans 22 pages of video scenes and photo galleries. Members have enjoyed his contributions to such recent series as 'Sexy Rich Gaysians' and 'Zombie Cumsuckers.' Having Lee onboard brought an experienced and dependable gravitas to the cast of fresh faces. Dane Jaxson is a social media superstar who debuted with PeterFever in the hot parody 'The Sex Pig Game' two years ago. Kai Cho starred in his first series on the site this summer, 'My Porn Crush' and brought along real-life boyfriend Sunny D to add a brand-new model to the award-winning Asian site. Despite the series' all Asian-American cast, mixing models from different areas, expertise, and levels of age and experience brings a certain diversity that members appreciate.
The story of 'Circle Jerk of Life' is frothy, sexy fun. Kai Cho stars as the innocent church boy, eager to convert new members by going door to door with bible in hand. When he arrives at a house with a rainbow doormat stating "Gayest place in town," he looks a little nervous. Jessie Lee plays the eccentric millionaire homeowner, whose family's vast porcelain throne fortune catapulted him to a life of leisure and luxury. With "house boys" Dane Jaxson and Sunny D by his side, they take Kai under their wing. In true male porn style, the story ends in an ancient fourway mating ritual; the circle jerk of life!
zBUCKz / WebMediaProz CEO Danny Zeeman is proud of the site's latest offering. "Aside from the fun and humorous storyline, the chemistry in this movie is off the charts!" he explains. "You have Sunny and Kai who are real-life boyfriends, and then adding experienced Peterfever stars Jessie Lee and Dane Jaxson into the mix, the pairings couldn't be hotter. Top it off with a beautiful location surrounded by autumn colors and ending with a bukkake orgy, this movie is destined to be another PeterFever classic!"
Social media director Nolan Knox agrees. "Kai and Sunny brought in an exciting new element to set, as a couple and individually. It was great to have Jessie return from his recent hiatus from porn. We brought back adorably sexy Dane Jaxson for his first appearance on PeterFever since his debut in "The SexPig Game" series. These four worked fantastically together. Add in our superb director Guy Chris, and this 'Circle Jerk of Life' really comes to, well, life!
Director Criss praises the attributes of his four-member cast. "With Jessie adding professionalism and experience to the excitement of our other three recent models this shoot was smooth and fun, and the final product reflects that close chemistry. Watch it and enjoy!"
'Circle Jerk Of Life' premieres this week on PeterFever.com for its five-episode run into early December.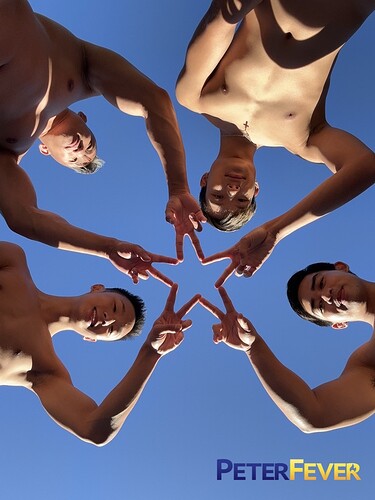 About WebMediaProz: WebMediaProz, the management company behind affiliate program Zbuckz.com, was founded in 2003. The company focuses on providing an innovative platform for entertainment studios to distribute their content, using state-of-the-art technology and innovation to personalize websites for their clients. The company's excellent affiliate tools, top notch support, industry leading payouts and powerful database infrastructure has made their affiliate programs and membership sites some of the most well recognized in the online entertainment industry, employed by some of the top studios, affiliates and talent in the industry.