Axel Abysse Debuts Strange "Experiment"
(Tokyo, Japan, October 29, 2021)
For Immediate release
Two laboratory subjects are treated with a strange glowing goo that transforms them in mysterious, unsettling ways. It's no current scifi movie spectacular, but a new homage to classic science fiction and horror from Tokyo's poet of pornography Axel Abysse. His wild, edgy and ambitious new scene "The Experiment" makes a perfectly-timed Spooktober debut October 29th at AxelAbysse.com .
The synopsis of "The Experiment" reads like the Hollywood treatment for a new shocker series. With a heaping helping of hardcore kink, that is.
"An experimental slimy goo wreaks delicious havoc on lab rats Axel and Syusaku. As they ladle thick strings of the glowing green substance onto each other's smooth naked bodies, a wild reaction mixes it with their bodily fluids. The mix pulses through their holes, their blood, their brains!

Syusaku and Axel are transformed into obsessed, out-of-control sex fiends, driven to mingle their flesh in the most outrageous ways. They fuck, fist and fill every orifice relentlessly with every tool and body part within reach"
The scene's visual milieu is striking and bizarre, as Syusaku and Axel are slathered in gallons of sticky, fluorescein-bright slime (made from Abysse's preferred lubricant X Lube) in a shocking acid green hue. Their gooey and frenzied sexual play is not groundbreaking, but combined with the bold art direction it adds up to a surprising and unexpected titillation. Ever the innovator, Abysse has brought a powerful gay fetish eroticism to the usual tired cliches of Halloween season.
Syusaku Nohara, Abysse's partner-in-crime for the scene, is a porn veteran based in Osaka. A dedicated and generous performer, Nohara is passionate about the sex industry and its models. Axel reports that he couldn't have managed creating the goo and rooting around in it without Syusaku's assistance and support.
October is more than just a month for weird sexual horror for Abysse. Marking the fourth anniversary of his eponymous website, AxelAbysse.com, Axel has met the challenges of the last two years with creativity and resolve. His newly-built and furnished playroom, inspired by months of lockdown isolation, made its online debut in October's "Inauguration, part 2". And in "Paradiso" Abysse joined frequent partner and collaborator Yoshi Kawasaki on a kinky fisting roadtrip to a verdant seaside paradise. That scene made its debut both on Axel's website and YoshiKawasakiXXX.com.
Abysse is excited to bring a challenging and stimulating venture into scifi horror to his viewers. It's just one of many innovations members of AxelAbysse.com have come to expect of the auteur performer and director. He explains his inspiration for "The Experiment":
"Way before I made my own movies, my favorite go to keyword when looking for porn was 'bizarre'. I don't care for stories about a pizza delivery guy ringing at my door. What turns me on is when I have no clue what is going on, when it's weird, sometimes grotesque, sometimes beautiful and mostly when it's surreal ! Movies like 'Shivers' or 'Existenz' by Cronenberg also have this uncomfortable touch of eroticism that makes you both cringe and want to touch yourself when nobody is watching (or at least, that's my reaction, but again, I'm a weirdo).
Not being able to travel for almost two years now because of the pandemic, I grew closer to some of the local Japanese porn industry artists. Syusaku has become a truly special friend. Along with a common passion for scuba diving and anything aquatic, we share a great curiosity for new ideas in porn, with a desire to make nasty movies that we haven't seen before. He's the one who came up with most of 'The Experiment' and how we could make it happen. We had so much fun squirting, rubbing, sliming and sliding together, but also it became a very intimate moment. The smell of our body fluids mixed in the goo was delightful, my chest pressed onto his arms, his cock throbbing, my hole twitching, our laughs and his smile… I wish I could have stayed in it forever."
Watch Axel Abysse's arousing and challenging "Experiment" when it premieres October 29th on AxelAbysse.com .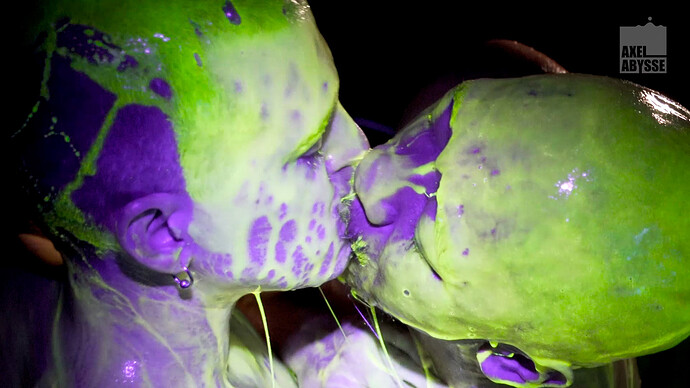 Keywords: AxelAbysse, fisting, fist-fucking, scifi, erotic, gay porn, porn, streaming, hardcore, art, pornography, passionate, fetish, photography, Syusaku, X Lube, October
About Axel Abysse: Born in the in the countryside of south France, introverted and unconfident as a kid, Axel escaped into his dreams and captured his fantasies on paper, writing and drawing on sketchbooks. His artistic interests soon brought him to pornography, as his growing body showed the first desires to be explored. While studying arts and more importantly cinema in Paris, Axel took a fist in him for the first time at 18, and never went back. Later, living in Japan, he explored photography using his obscene self as a model. Surprised, yet turned on by the reaction of hundreds of admirers online, he decides to share what he calls "his curse" with the world. Abysse is born. With exhibition as a pretext to exercise his self-taught filmmaking skills, a first video is uploaded on Xtube in 2014. It is the first of a long series of sometimes, somewhat experimental pornographic pieces in which the performer explores the art of fisting, alone or with partners from all over the world. His work started getting more attention over the months, and he was then invited by renowned studios to perform in the USA with big names of the industry, such as Brian Bonds and Amerifist. In 2017, after meeting with the inspirational trans-porn icon Buck Angel, Axel decided to fully embrace his creative and sexual passions with his website.
About WebMediaProz: WebMediaProz, the Management company behind such affiliate programs as Zbuckz.com and Dickbank.com, was founded in 2003. The company focuses on providing an innovative platform for entertainment studios to distribute their content, using state-of-the-art technology and innovation to personalize websites for their clients. The company's excellent affiliate tools, top notch support, industry leading payouts and powerful database infrastructure has made their affiliate programs and membership sites some of the most well-recognized in online entertainment, employed by some of the top studios, affiliates and talent in the industry.