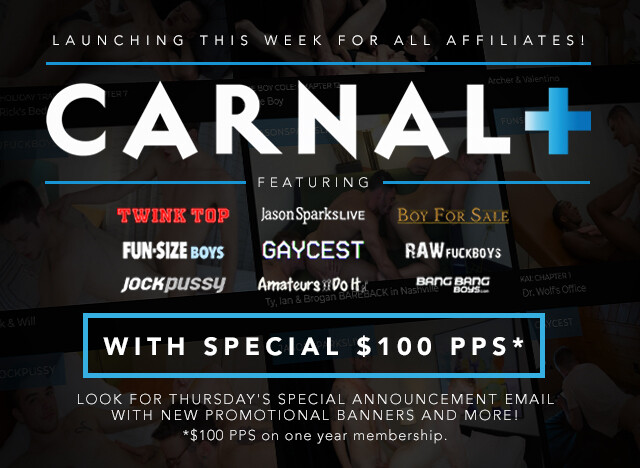 Carnal Media announces the launch of CARNAL+ and $100 PPS*
Be part of the launch of the BIGGEST GAY OWNED AND OPERATED NETWORK SITE EVER!
CARNAL MEDIA is blazing trails once again as we announce the launch of CARNAL+, the largest all gay owned network site to come along and we want you to be a part of it.
This Friday, June 25th marks the beginning of the BIGGEST, HOTTEST NETWORK of AWARD WINNING and TOP CONVERTING sites ever to come from Legrand Wolf and his husband Jay, the creators of the original Mormon Boyz and Family Dick.
We've put 10 of our TOP CONVERTING, AWARD WINNING sites together under one MEGASITE as CARNAL+, the Disney+ of GAY PORN!
But here's the BEST PART! We are PAYING you $100 PPS* on HALF PRICE joins with our LAUNCH SPECIAL to run for an entire month!
If you are already signed up as an affiliate you are all set to take advantage of the $100 PPS* payout but if you haven't signed up yet, now is the time to do so!
Promo Materials are going out Thursday to all affiliates who receive our newsletter.
For any requests or if you have any questions or to be added to our newsletter mailing list, contact Scott at [email protected]. Tyler at [email protected] or Mike at [email protected]