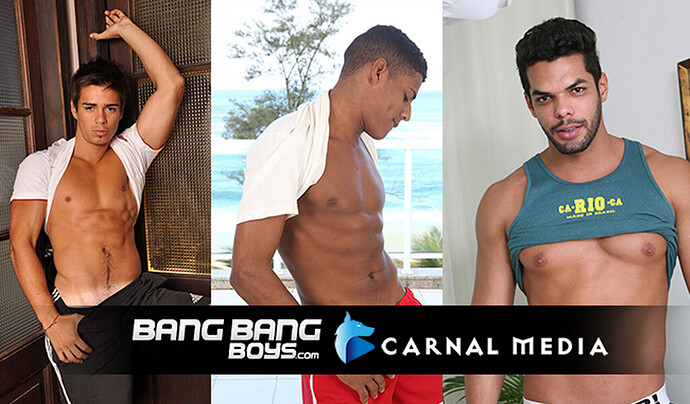 July 20, 2021—Carnal Media Headquarters
Carnal Media Purchases Award-Winning Site BangBangBoys
With Plans To Grow And Expand Inside The CarnalPlus Bareback Network
Carnal Media is pleased to announce the official acquisition and purchase of BangBangBoys. Legrand Wolf and his husband have purchased the site, library, rights, and intellectual property of BangBangBoys with plans to expand the genre back to the site's glory days of award-winning content.
Legrand Wolf, the owner of Carnal Media, explained the decision by saying, "BangBangBoys is a known classic brand for porn consumers who agree that Brazilian men are some of the sexiest men to roam the earth. BangBangBoys shares a common history with Falcon, Raging Stallion, Nightcharm, and so many other classic gay porn brands that have all been part of the GunzBlazing family. Most got started there, but others have remained there for years. We did not want BangBangBoys to suffer the fate of many other sites purchased as token gay properties by big straight companies. We made an offer to buy BangBangBoys and keep it in Carnal Media's Gunz Blazing Bareback Network for good. And the timing with the launch of CarnalPlus is great. Also, for three years, we have been producing content in Brazil and Spain for several new sites, and some of that content will now appear on BangBangBoys."
BangBangBoys, known for showcasing the hottest and most hung Brazilian and Latin faces over the years, as well as sensual barebacking scenes, first took to the internet back in 2006 with owner Gil Even at the helm. BangBangBoys produced over 800+ videos with well-known Latin models like Marcio Pitbull, Danny Lopez, and Adriano Morales.
"BangBangBoys has showcased the most unbelievably hot Brazilian and Spanish men - gay, bi, and straight. From hung young studs to beefy men. This was an amazing addition to our already rapidly expanding catalog of carnal series," continued Wolf.
Carnal Media continues to introduce new classics to its flourishing bareback network CarnalPlus, including MasonicBoys, the relaunch of their famous site Mormon Boyz, restored to its original look, concept, and cast. Fans of our content and the ritualized daddy son genre we pioneered have been quitting the imposter site missionaryboys and coming over to our relaunched site in droves. And now they can get Masonic Boys by subscribing to the site individually or by joining the sizable Network CarnalPlus - 1 subscription, 13 sites (and adding more each month).
"Our release schedule for new content fashioned by a growing list of pervy producers for Q3 and Q4 makes CarnalPlus the leading platforms in the adult market for gay content. And BangBangBoys is the perfect way to jumpstart our Latin category," remarked Wolf.
For more information and promotional items, or to inquire about promotional materials to help maximize profits, please contact Carnal Media's sales team by emailing Tyler at [email protected]
or Mike at [email protected] or Scott at [email protected]