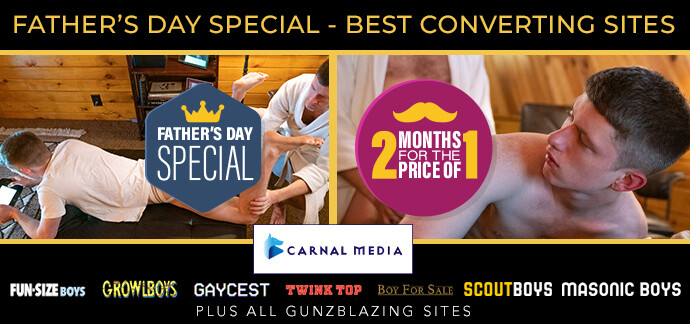 We're Celebrating Father's Day with 1 month free!
CARNAL MEDIA does it once again with a whole lot of daddy/son action with 30 DAYS FREE to celebrate Father's Day!
But this isn't just on GayCest alone! No, this 30 DAYS FREE will be offered on all CARNAL MEDIA sites for you to take advantage of from Friday, the 18th through Friday the 25th!
In addition to GayCest, this offer extends to Fun Size Boys, Scout Boys, Masonic Boys, Twink Top, Boy For Sale, Twink Loads, Jason Sparks Live, Amateurs Do It, Raw Fuck Boys and 4 MORE of our Award Winning and Top Converting CARNAL MEDIA sites!
This is an offer GAY PORN LOVERS everywhere will LOVE and you should reap the benefits as well offering this Special Sale to your fans and followers.
All CARNAL MEDIA Sites are giving 60 DAYS for the Price of 30!
Don't Miss Out on this Great Opportunity!
HAPPY FATHER'S DAY from The CARNAL MEDIA Team!
For any requests or if you have any questions contact Scott at [email protected].
P.S. If you aren't signed up as an affiliate with CARNAL MEDIA yet, you may want to do so soon to take advantage of an upcoming $100.00 Pay Per Signup opportunity on a MegaSite that is converting as low as 1/6. Contact Tyler at [email protected] or Mike at [email protected]