Axel Abysse Premieres Audacious, Arty 'Mucin' December 31st
(Tokyo, Japan, December 29, 2021)
For Immediate release
Axel Abysse, Tokyo's own French "poet of pornography" takes a further step into glossy and surreal projects with his latest kinky erotic update, 'Mucin'. His eponymous website's final scene of 2021, the arty and high-fashion tableaux is directed by Taiwanese Manbo Key and is guaranteed to shock and delight Abysse's rapt viewers. Watch it on AxelAbysse.com starting Friday, December 31st.
From its first frame, 'Mucin' unfolds into ritual and surrealism. A film set backed by seamless white fabric is festooned with dozens of low-hanging cabbage leaves just above the head of a seated, meditative Abysse. An ethereal priestess lovingly wraps him in transparent cling film like a chrysalis, then methodically tears it away to reveal a metamorphosed Abysse whose body drips and oozes a mucilaginous slime. The kinky erotic action begins to play out in hot red light as Ting Cheng Ho fists Abysse in an artificial set that teems with bizarre and unexpected nature. Their connection is sometimes sensuous, with long and beautiful kisses in slow motion, sometimes hypnotic, as bright flashes and strobes accompany the fisting action.
Manbo Key, the creator behind this blend of beauty and weirdness, has built a career in the heady worlds of fashion and high art. His challenging filmic creations bring queer and underground culture elements into mainstream projects.
Abysse worked with Manbo on his recent 'Rencontre CULturelle' erotic documentary that showcased artist WOO YEAH's 2019 live fashion / sex event in Seoul. Their reteaming is even more ambitious and ritualistic. "I've always admired Manbo's work and merging our universe was a dream come true," he recalls.
"His aesthetic is pure poetry. The way he treats colors itself is story telling. I've said this before but I believe porn is a form of art, it can take new shapes, it can be bold, dreamy and still make you cum.

I'm all for mixing media in pornography. 'Mucin' is something I've never seen before. Yet I know how it could have impacted me if I watched it as a spectator.
Also let's face it, my scene partner Ting is such an eye candy. We've spent some time together, danced and fucked before on stage in Taipei. We both were very comfortable letting Manbo direct us in his mind.

It's also the first time my life accomplice Kosmic Sans appears on screen with me. It was all very warm and friendly.

'Mucin' is a trip, a hallucination. Let it swallow you whole the way it swallowed us."
WebMediaProz' CEO Danny Zeeman is continually surprised and amazed at creator Abysse's talent and the inspiration that brings a unique edge to his gay fetish website. "Only Axel Abysse (with the help of Manbo) could bring together high art and raunchy sleaze with such attention given to minutiae, to create something so out of this world that you just have to see it. 'Mucin' is Axel's tour de force. Mind blown."
Don't miss this exciting, audacious mix of art and pornography. 'Mucin' will be available for viewing at AxelAbysse.com from December 31st.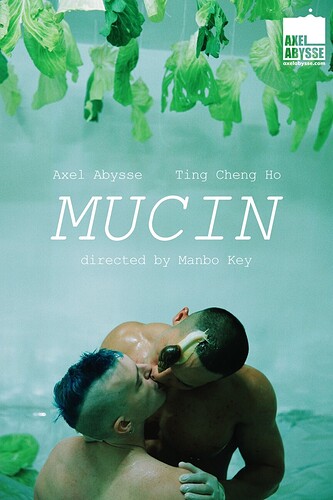 Keywords: AxelAbysse, fisting, fist-fucking, art, erotic, surreal, ritual, gay porn, porn, nature, queer, hardcore, Taiwan, pornography, passionate, fetish, photography, Manbo Key
About Axel Abysse: Born in the in the countryside of south France, introverted and unconfident as a kid, Axel escaped into his dreams and captured his fantasies on paper, writing and drawing on sketchbooks. His artistic interests soon brought him to pornography, as his growing body showed the first desires to be explored. While studying arts and more importantly cinema in Paris, Axel took a fist in him for the first time at 18, and never went back. Later, living in Japan, he explored photography using his obscene self as a model. Surprised, yet turned on by the reaction of hundreds of admirers online, he decides to share what he calls "his curse" with the world. Abysse is born. With exhibition as a pretext to exercise his self-taught filmmaking skills, a first video is uploaded on Xtube in 2014. It is the first of a long series of sometimes, somewhat experimental pornographic pieces in which the performer explores the art of fisting, alone or with partners from all over the world. His work started getting more attention over the months, and he was then invited by renowned studios to perform in the USA with big names of the industry, such as Brian Bonds and Amerifist. In 2017, after meeting with the inspirational trans-porn icon Buck Angel, Axel decided to fully embrace his creative and sexual passions with his website.
About WebMediaProz: WebMediaProz, the Management company behind such affiliate programs as Zbuckz.com and Dickbank.com, was founded in 2003. The company focuses on providing an innovative platform for entertainment studios to distribute their content, using state-of-the-art technology and innovation to personalize websites for their clients. The company's excellent affiliate tools, top notch support, industry leading payouts and powerful database infrastructure has made their affiliate programs and membership sites some of the most well-recognized in online entertainment, employed by some of the top studios, affiliates and talent in the industry.