Axel Abysse Goes Aquatic for "Freedive" Solo Fetish Scene
(Tokyo, Japan, October 16, 2020)
For Immediate release
Tokyo-based porn auteur Axel Abysse's intriguing new update brings a new genre to the French fetish idol's on-camera repertoire. A recent trip to seaside Okinawa with friend and collaborator Asher Hattori became the perfect opportunity for a solo underwater fisting scene. "Freedive" premieres online today at AxelAbysse.com , bringing Abysse's longtime erotic connection with water to the forefront in his artistic gay fetish porn. He explains his aquatic affinity:
Water is my element. Some might think it's relevant to say I'm a Pisces. I've always been obsessed with the underwater world since my youngest age. Cousteau's documentaries and movies like Luc Besson's 'Big Blue' or James Cameron's 'Abyss' made my childhood and obviously influenced who I am today. I practice free diving and am a licensed scuba diver.
Under the surface, I'm free. This is where I regain my energies, where I refocus. It won't be a surprise to anyone, but when I feel good I also get aroused. Fully submerged, my hole opens. It's a different kind of horny, not the usual needy pressure, more like a peaceful lead to pleasure, smooth and natural. It's a different feeling I hardly can put in words. And when I lack words, I try to create images to express myself
Because I am fascinated by swimming and floating bodies, I have always wanted to attempt underwater porn. This is how 'Freedive' was made.
Asher Hattori, who was diving with me and helped me film this piece with a simple GoPro camera, makes a short appearance in the movie. But when I'm down there, I'm lonesome. Self-love then becomes an evidence. I always touch myself, masturbate or wreck myself when at sea.
Abysse chose a neoprene harness for his underwater solo, paired up with swim fins and diving mask. He explains that neoprene's warm, absorbent nature makes it his favorite fetish component, even more than leather or latex rubber. And his advice to others attempting a salty underwater fisting encounter—don't try it. "It hurts quite a bit—but damn, does it feel good."
Zbuckz CEO Danny Zeeman applauds the artistic risks that are the hallmark of Axel's porn. "Once again Axel blurs the line between art and hardcore pornography with his daring use of the elements," he explained. "Never before has there been anything even close to this produced, with breathtaking underwater shots floating seamlessly while simultaneously bringing the sexual air of fists and anal pressure to the surface. For Axel's rabid fans as well as any gay fisting porn connoiseur, his newest film is a tour de force." Watch for the elemental aquatic kink solo "Freedive" on AxelAbysse.com starting Friday, October 16.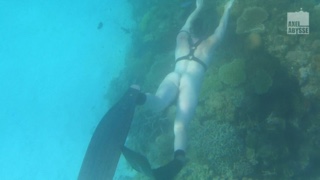 Visit Zbuckz for affiliate details; direct inquiries to [email protected].